Keep your operation consistent, no matter the conditions.
Unplanned IT system loss can create an operational black hole at any time, whether through human error, hardware fault, malicious act or site disaster. The ramifications are likely to be dramatic or even catastrophic on a company's ability to trade and operate.
Many businesses are required to implement business continuity plans to comply with insurance requirements, while others do it for good governance and to protect their investment.
Unlimited bandwidth – no limits, no fees
Total control of your data when needed
Hard drive redundancy and mirroring with RAID 1 storage
Mooncomputers
Disaster Recovery
services include comprehensive risk assessment, business continuity planning and other options such as off-site data storage and standby systems. Combined with full admin-level access, Parallels Plesk control panel and 100Mbps connections, we can ensure that whatever challenges your business faces, we can get you back up and running in no time.
The challenges for every business are increasing. Markets are tougher and margins are tighter, meaning efficiency and mobility are becoming essential to remain competitive, no matter your industry. But, we know that adapting to new technology and workforce behaviour can be challenging. That's why we believe in creating flexible and agile solutions that help you easily move with the times.
Mooncomputers is a national IT solutions provider that was founded in 2001. For two decades, our consistent success has led us to develop exciting solutions and services for customers across the country.
As a direct result, Mooncomputers has rapidly grown and developed a range of managed services that provide businesses with the foundations to build an agile, scalable technology infrastructure, while still ensuring customers find true value for money.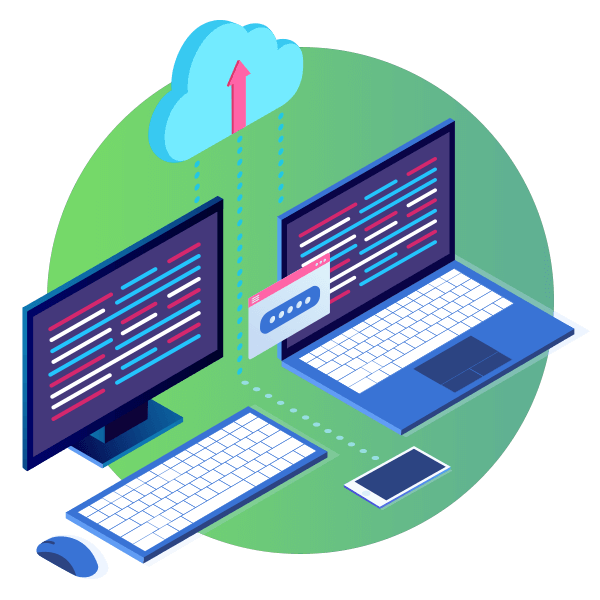 If you would prefer to keep your recovery solution on-site, we will work with you to design a solution according to those areas of your organisation that are most at risk.
In the event of a business-critical situation, our Rapid Response Team will work quickly and thoroughly to identify, diagnose and resolve the issue. Our recommended solution is then passed back to our administration teams who can provide you with a comprehensive quote and honest advice, so that can confidently take the next step.
Mooncomputers delivers focused Business Continuity services that offer everything from impartial assistance in planning and reducing risk, through to flexible solutions that enable you to recover quickly. We are happy to respond to your needs as quickly as we can, working with your partners to bring your business to an operational state as soon as possible, if you experience an unavoidable failure or disaster.
Backs-up to 10 servers every 15 minutes
Compatible with NAS, external storage or off-site datacentres
NAS acts as a virtual replacement for servers that fail
Restore failed servers to new hardware with 'block level' backups
Optional, daily synchronisation with our offsite datacentres
Back-ups and transfer are encrypted with *256-bit AES encryption
Restore individual files, folders and mailboxes
Restoring server operations in 20 minutes or less using virtualization
Monitored and maintained 24/7*
*Additional network configuration may be needed on servers virtualized in remote locations.
Mooncomputers' Advanced Recovery and Continuity Appliance (ARCA) is a perfect complement or replacement to existing tape back-ups. Its ability to provide short-term recovery for individual files, database or mail messages, all the way to a full production
server
, means we can get your operation running again in a matter of minutes.
ARCA is a network attached storage device for Windows Servers that comes preloaded with all back-up, recovery and virtualization software it needs to protect your business. Your entire back-up chain is replicated, giving you multiple levels of redundancy, so that you're always covered, no matter what.
Whether you're a one-man band or a corporate enterprise, your files are at risk if you don't back them up! It could be hardware failure, a spilt glass of water or leaving your laptop on a train; but whatever the situation, you need a guarantee that your portable computers have a simple way to safeguard your data.
My Drive Store is quick and easy to setup and, thanks to unlimited storage and constant updates, it ensures your files are backed up safely online.
Truly Unlimited Back-up
No limit on storage space or bandwidth, meaning you can back-up as much as you want.
Easily Restore at Any Time
Log in to MyDriveStore online to download any file, at any time, through our secure web portal.
Easy to Install
Set it up in minutes. No technical knowledge required.
Completely Hassle-free
Constantly backs up files as you work, meaning no awkward schedules or manual clicking necessary.
Safe & Secure
Your files reside in state-of-the-art datacentres using military grade encryption and multiple failovers to ensure your data is highly protected.
Super-fast Uploads
MyDriveStore uses advanced technology to maximise the speed of your uploads, utilising high-bandwidth internet connections wherever possible.
Simple, Secure Online Back-up
The simplest way to back-up your files; just set it and forget it!
Version History
Access up to thirty previous versions of any file, so you can roll back at any time.
Mooncomputers understands just how important it is that your business stays online, and that if things go wrong, you have a speedy recovery process to minimise the possible effect on your operation.
Our primary concern is always the performance of your business, not just your IT. If you'd like to know more about how Mooncomputers could help your organisation, then please get in touch.